Acorn A500 second processor
[Index by function ] [Index by Company ]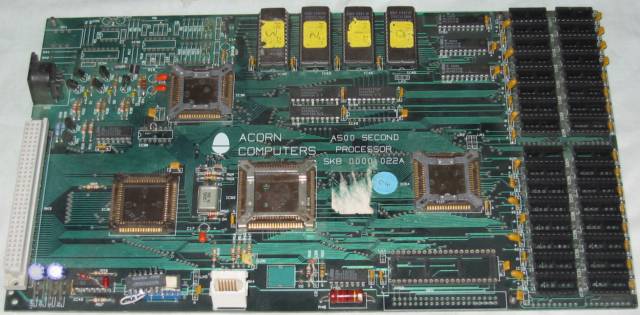 Acorn A500 second processor (top)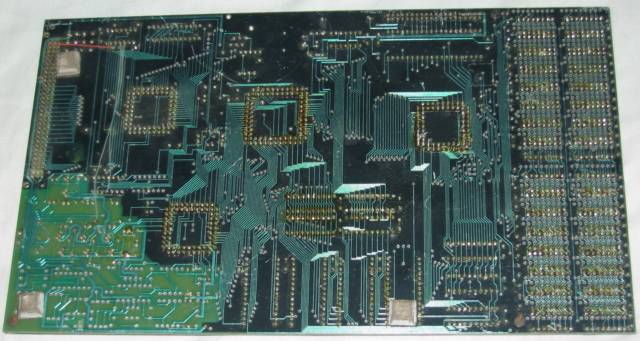 Acorn A500 second processor (bottom)
Here is a HiRes picture of the A500 second processor circuit board
I think that the A500 second processor must date from the period when Acorn were developing the Archimedes range. By connect a second processor to the Tube, Acorn could use the BBC Micro as the I/O processor and not have to worry about I/O devices on the A500.
This board has been stripped of most of it chips. The board shows the following:
Sockets for 1 (or 4?)MB of RAM (on the right)
OS ROMs with yellow stickers (on top). I have not yet tried to read them to see what the OS version is.
Large square socket for ARM 1 or 2 (in middle)
3 small square sockets for MEMC1 (on right?) and IOC (bottom left?) and VIDC1 (top left?)
Tube interface, scocket unsoldered (bottom next to RAM) with socket for Tube ULA above it
White keyboard connector (middle bottom) this is the same type of connector the A500 uses
Podule backplane connector (bottom left)
RGB socket (top left)
These are somewhat speculative due to lack of any documentation and the rarety of the board which means I have not been able to check it elsewhere. Any further information or corrections would be appreciated.
Here is the A500 2nd processor circuit diagram.