IMS/Interconnex Peanut
[After Acorn] [Companies ]
Introduction
In 1998 Innovative Media Solutions (IMS), a small company based in Somerset, announced that it was collaborating with Interconnex UK Ltd to build a RISC OS laptop using technology licensed from Acorn. The laptop was called project Peanut. The computer was demonstrated at the 1998 Wakefield RISC OS Show in May 1998. The system was based on the ARM7500FE CPU and would run RISC OS 3.71.
Unfortunately Acorn closed their workstation division in September 1998 and cancelled the Risc PC2 (Phoebe), Interconnex took over IMS in Nov 1998 and in April 1999 the Peanut died when the Interconnex web site said that "Due to increasing difficulties obtaining the necessary components, and the reduction in the size of the potential market, we have regretfully had to halt development of this product".
Manuals and documents
None.
Peanut
Here are some pictures of the Peanut:
Peanut at 1998 Wakefield PISC OS show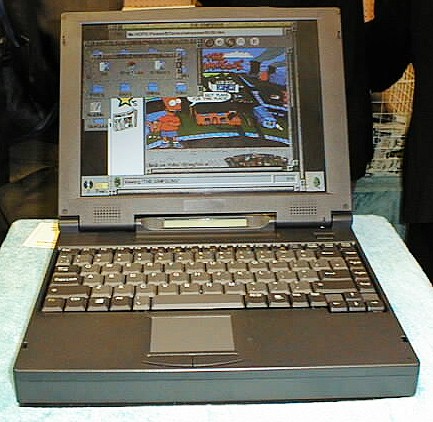 Peanut from Arcade BBS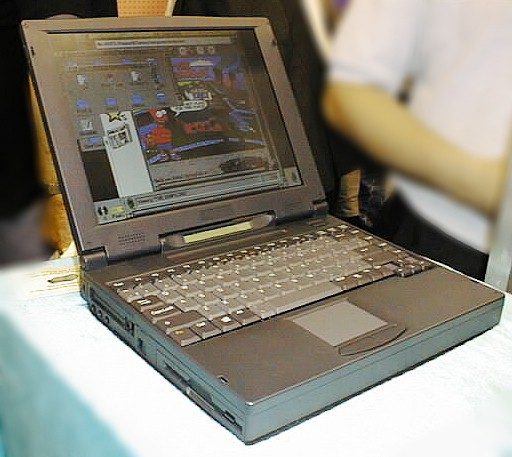 Peanut form Arcade BBC
Specifi cation:
From Spidersoft News :
| | |
| --- | --- |
| CPU | ARM 7500FE |
| Storage | 2GB Hard Disk |
| | 20 speed CD ROM |
| | 3.5" 2Mb Floppy Disk Drive |
| Display | 12.1" TFT Screen |
| | 800x 600 in 256 colours |
| Memory | 4Mb page mode RAM |
| | 16Mb or 32Mb EDO RAM |
| | 240b battery backed CMOS RAM |
| | Unique ID Chip |
| Data Input | 88 key keyboard |
| | Touch sensitive 2 button Glidepoint mouse |
| Software | RISC OS 3.71 |
| | Internal battery management |
| Connectors | Parallel port |
| | Serial port |
| | VGA output |
| | External keyboard and mouse |
| | Headphones (3.5mm jack) |
| Audio | CD Quality 16 bit sound |
| | CD Audio |
| Dimensions | 297mm x 236mm x 47mm |
| Weight | 3.5kg |
| Power supply | External mains transformer |
| | NiMH battery |
| Price | £1,500 (approx) |