Pace DSL4000
[Pace } [After Acorn ]
Introduction
The Pace DSL4000 set top box was launched in 1999, it is an IP TV home gateway and can deliver video over IP ( e.g. PPV, broadcast TV, VoD movies) as well as internet services (e.g. web browsing, email, chat). The DSL4000 is based on technology Pace acquired from Acorn/Element14 and is based on an ARM7500 CPU with 16MB DRAM.
Manuals and documents
DSL4000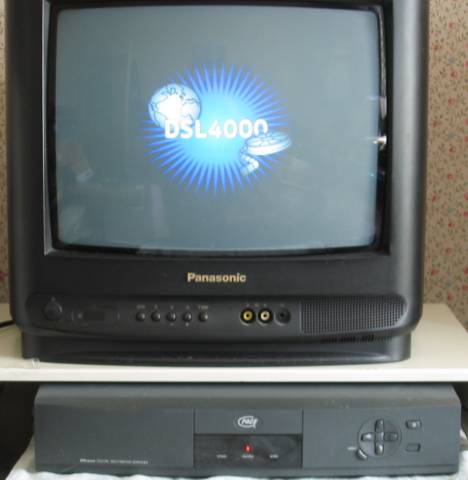 Pace DSL4000
The Pace DSL4000 does not have a monitor (e.g. VGA) connector and is connected to a TV via a SCART lead.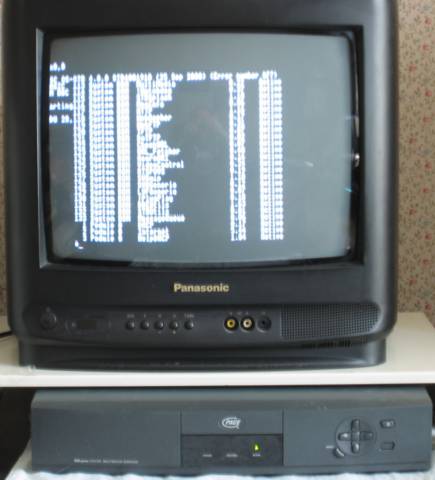 Pace DSL4000 RISC OS * prompt
The Pace DSL4000 operating syatem is basaed on RISC OS, by connecting a PS/2 keyboard and powering on while holding down <shift> & <Keypad-*>, you can boot to the command line. This sceen shows the end of the ROModules listing. It is not possible to boot to the RISC OS desktop, I think this is because of missing modules.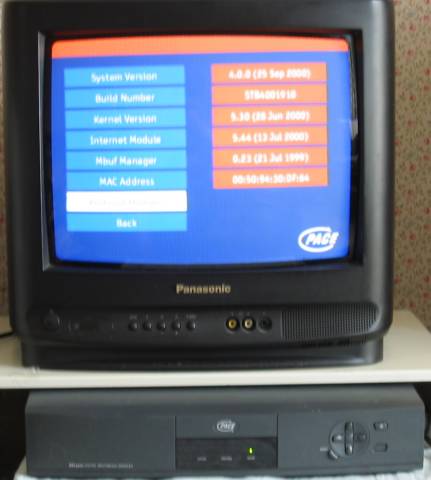 Pace DSL4000 Versions sceen
The Pace DSL4000 can be booted to the Engineering Menu screen by holding down the "Select" button on the front right of the box and powering on. There are a number of configuration options to configure the DSL4000 network options for startup, this screen shows the version of the operating system and some other software.

Pace DSL4000 (front)
The front panel of the Pace DSL4000 has 3 status lights in the central panel - remote, standby and active. There are they arrow buttons on the right with the select button to the left. The reset button is recessed to the right of the arrow buttons and the standby button is above it.

Pace DSL4000 (back)
The backof the DSL4000 showing the I/O ports. From left to right, they are:
Main power,
TV SCART,
Video out (yellow)
audio in L & R (white & red)
RF in
RF out
Keyboard in (green)
mouse in (purple)
Parallel port
Serial port
Ethernet (10BaseT)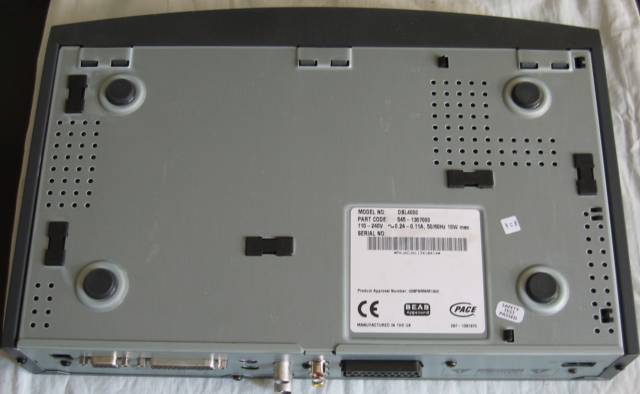 Pace DSL4000 (bottom)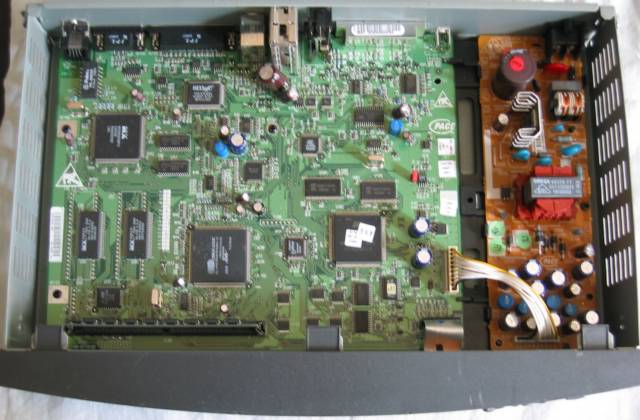 Pace DSL4000 with top removed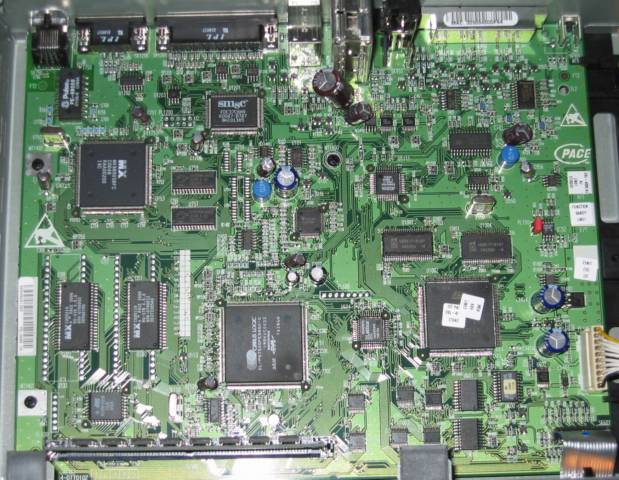 Pace DSL4000 motherboard
The Pace DSL4000 motherboard showing, from left to right:
The 16MB SIMM (bottom left)
2 x RO-STB 4.0.0 ROM (middle left)
MX98905BFC fast Ethernet NIC controller
Cirrus Logic PS7500FE56QC-C ARM7500 CPU (middle bottom)
STi3520 MPEG Audio and Video decoder (right with 2 labels on)
Here is a HiRes picture of the DSL4000 motherboard.

Pace DSL4000 Remote Control
Specification:
| | |
| --- | --- |
| Serial No. | PAJACUA113410414 |
| Unique identity | n/a |
| Motherboard | DSL4000 |
| Motherboard part no. | n/a |
| CPU Type | ARM7500FE |
| CPU Model | CL-PS7500FE56QC-C |
| CPU Clock | 56MHz |
| Memory Controller | ARM7500 (IOMD) |
| Memory | 16MB EDO SIMM |
| Memory Clock | n/a |
| Video Controller | ARM7500 (VIDC20) |
| I/O Controller | SMC FDC37C669 |
| NIC | on board |
| OS | RO-STB 4.0.0 |
| OS Date | 25-Sep-2000 |