Xemplar
[After Acorn ] [Companies ]
Introduction
Xemplar was founded in 1996 as a 50/50 joint venture between Acorn and Apple to sell to the UK Education Market. In 1998 Acorn was looking to sell its 50% and seeking a buyer. In January 1999 Apple bought out Acorns 50% for £3 million. This ended Xemplar's involvement with Acorn and RISC OS based products.
Manuals and documents
None
Computers
Matrix NC
One of the Acorn products that Xemplar successfully sold into UK schools was the NetStation, which was rebranded as the Xemplar Matrix NC.

Here are some pictures: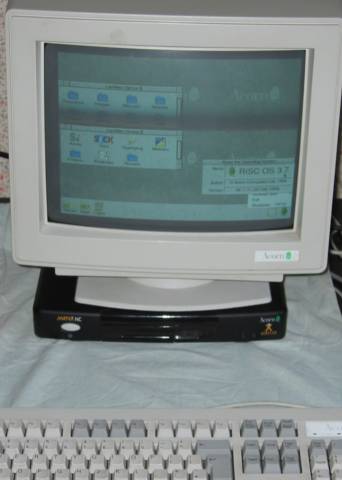 Matrix NC running NCOS 1.11
Matrix NC, with an Acorn AKF60 monitor, connected to a LAN with a Windows NT4 server. The NC has the MicroLynx Topcat boot code in its ROM and searches for a suitable server at start up to load its boot structure and provide local storage.
Matrix NC (front)
The front of the Matrix NC with the Power on/standby switch at the front, the smartcard slot in the middle and the power and standby LEDs next the the Xemplar logo.

Matrix NC (back)
The back of the Matrix NC showing the ports. From left to right they are:
Ethernet,
Printer,
Mouse and keyboard
Audio (R&L) out
Video/TV
Monitor
16v power
In the middle the top of the case forms a tab with a hole in it to enable the NC to be securely locked to the desk.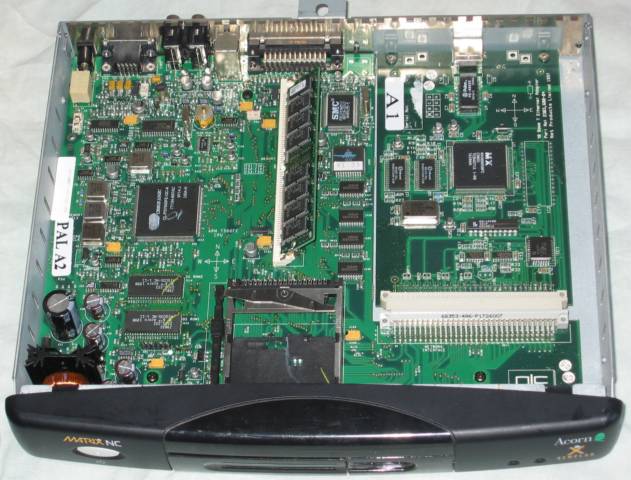 Matrix NC with cover off
Matrix NC with the top cover removed showing the motherboard. The motherboard is the same board as used in Acorn's NetStation, but this Matrix NC has a 16MB SIMM in the middle and the OS ROMs in the lower left are for NCOS 1.11. On the right is the NetProducts 10BaseT Ethernet Adaptor .
Specification:
Serial No.
80-TNS11A-1005141
Unique identity
0050A4024AC2
Motherboard
NC 1 Main Board
Reference Design
Motherboard part no.
2103,000 Issue 1
CPU Type
ARM7500FE
CPU Model
CL-PS7500FE-QC-A
CPU Clock
40MHz
Memory Controller
ARM7500 (IOMD)
Memory
16MB EDO SIMM
Memory Clock
16MHz
Video Controller
ARM7500 (VIDC20)
NIC
NetProducts 10 BaseT Ethernet Adaptor
2303,600-04
OS
RISC OS-NC 1.11
OS Date
24 Feb 1998
SICK v1.22
Dhrystone/sec
kWhetstones/sec

41001
4654
ARMSi v4.0
MIPS
23.68