Acorn "Gideon"
[NCs, STBs & Prototypes] [Computers ]
Introduction
Peter Howkins emailed me in March 2010 to tell me that Chris's Acorns was missing the Acorn "Gideon". "Gideon" was the internal Acorn project name. There is virtually no detail about it available on the web. The "Gideon" appeared on Acorn's stand at the 1997 Wakefield RISC OS show and was never seen again (unless you know better).
I don't have an Acorn "Gideon", indeed I doubt if it was ever completed, yet alone one exists today.
Manuals and documents
None
"Gideon"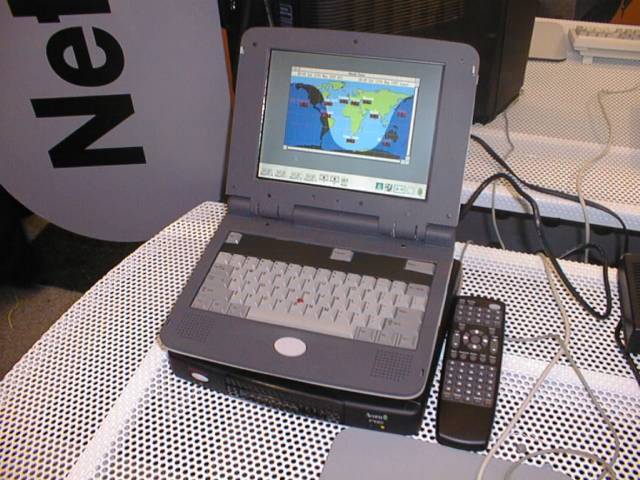 Acorn "Gideon"
Picture from Risc User in a Nutshell CD
Peter Howkins describes it as:
Called the 'Artisan' (I think). [Actually "Gideon". CW]
Made for a 3rd party customer that really didn't like wintel, Acorn thought they could add some extra onto the production run and sell to enthusiasts.
The function keys were covered up to prevent the public being able to guess who the customer was (custom Fn keys).
I believe it was specced around a ARM7500FE (rather than ARM7500) as it was the same show that the A7000+ was launched at.
The model displayed was likely a standard Acorn NC running its display through the laptop, rather than a working unit. NFS icons on the desktop instead of a Hard Drive for example.
Oh and, of course, nothing came of it. A year later at Wakefield 1998 there was no sign or mention of it.
Acorn User No 183 July 1997 page 44, in its review of the Wakefield show said:
"The prototype of the new Acorn portable was covered by a Do Not Touch sign for most of the show. Acorn User received an exclusive preview and we can reveal that the keyboard included a revolutionary replacement for the mouse - nicknamed the pencil eraser by Acon staff - a tiny gadget located in the centre of the keyboard which gives finger-tip control of the mouse pointer. The full colour screen was excellent quality."