BBC Microcomputer Model B+ 64K
Introduction
The BBC Mode B+ 64K increased the BBC micro's memory from 32K to 64K. Compared to the Model B, it has:
a redesigned motherboard with the ROM sockets moved to the lefthad side of the board so that they are not covered by the keyboard.
the CPU is changed from a 6502 to a 65C12
a new OS version 2.00 to support the new features. The startup messages is changed from "BBC Computer" to "Acorn OS"
a Western Digital 1770 disc controller, instead of the Intel 8271, which supports ADFS as well as DFS
a new DFS version 2.10 to support the WD1770
additional 32K RAM with 20K for shadow video memory and 12K workspace
additional 2 ROM expansion sockets
Manuals and documents
See BBC Micro .

Here is the Acorn product brochure for the BBC B+
In June 1985 Acorn User published a News item titled "BBC B+ Reveled".
In July 1985 Acorn User published a Review titled "B+ Grading".
In July 1985 Practical Computing published a review of the BBC B+ titled "Acorn BBC B+ ".
BBC Model B +64K
I bought this example on ebay in August 2001.
Here are some pictures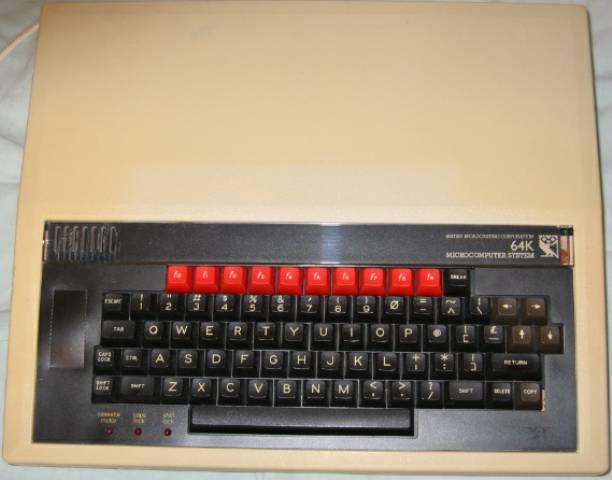 BBC Model B+ 64K
The 64K on the right of the keystrip identifies it as a BBC Model B+ 64K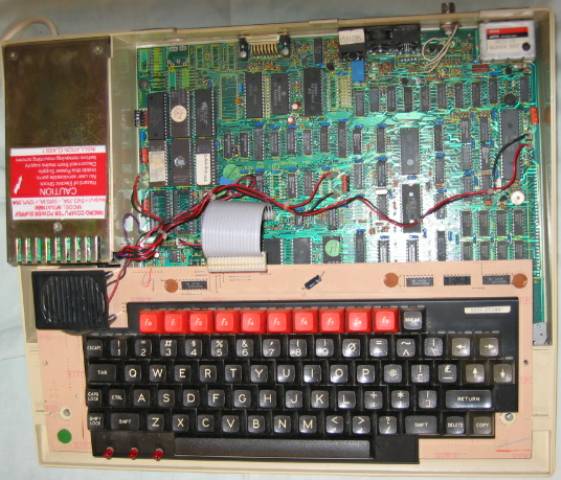 BBC Micro +64K with top off
Note the sideways ROMs are now at top left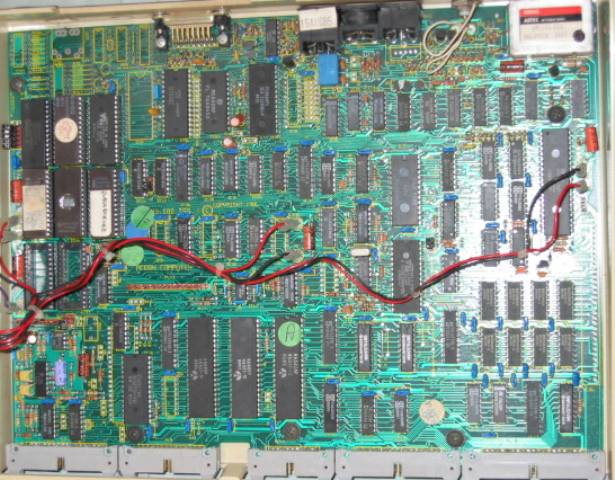 BBC Micro +64K motherboard.
The BBC Model B+ has a redesigned board layout compared to the previous BBC micros. In particular the sideways ROM sockets have been moved from the front right (under the keyboard!) to the back left by the power supply. The two empty sockets below the sideways ROMs are for the speech system. At the bottom left a Western Digital 1770 has replaced the Intel 8271 disc controller.
Specification:
| | |
| --- | --- |
| Serial No. | 01-ANB53-5518856 |
| Motherboard | 233,000 Issue 1 |
| CPU | Rockwell R6512AP |
| CPU Clock | 2MHz |
| RAM | 64KB |
| ROM | 48KB (maximum 192K ROM) |
| Disc Controller | WD1770PH |
| Disc Filing System | DFS 2.10 |
| OS | 2.00 |
| Add-in/Upgrades | None |