Pocket Book
[Pocket Books ] [Computers ]
Introduction
Acorn launched the Pocket Book in 1992. The Pocket Book is an OEM version of the Psion 3. The main difference was in the built-in applications and, of course, the Acorn logos. The Pocket Book was designed for use in schools and can be linked to Acorn, Mac or Windows computers with special links and software that automatically converts common file formats. The Pocket Book can run Psion Series 3 software so there is a wealth of applications available.
Manuals and documents
See Pocket Books.
Pocket Book
Here are some pictures of the Acorn Pocket Book: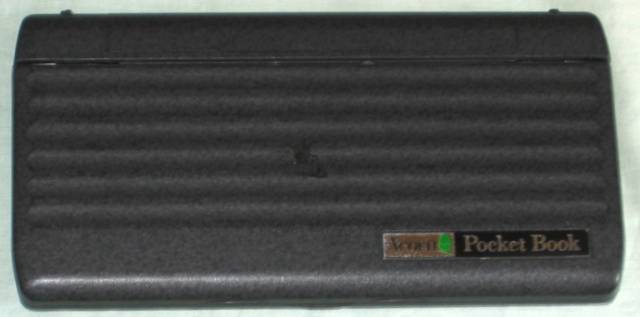 Pocket Book closed
Front view of the Acorn Pocket Book, It is a clam shell design with the top opening and hinged at the back.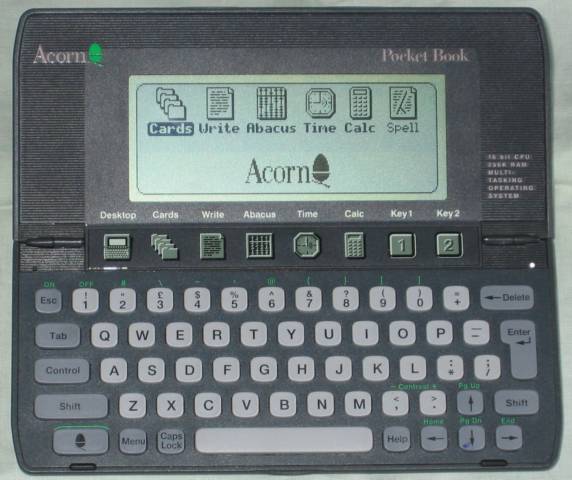 Pocket Book open
Acorn Pocket Book opened to show the screen and keyboard. The Pocket Book applications are visible on the screen . The Buttons in the middle are linked to and launch the application.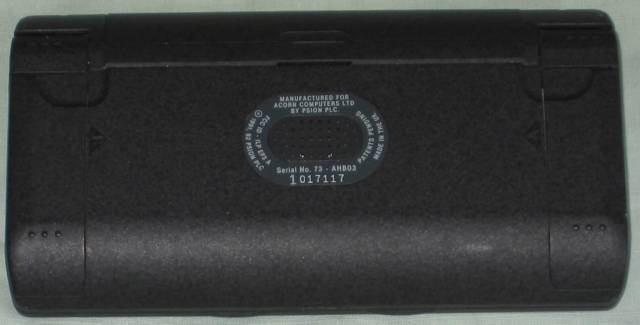 Pocket Book (bottom)
The bottom of the Pocket Book with the speaker in the middle and the serial number below. On the right had side, but not visible, is a six pin connector for extenal cable (e.g. A-Link) and on the left, also not visible, is the connector for the mains adaptor.

Pocket Book showing SSDs
The Pocket Book with the covers for the 2 SSDs open showing the SCHEDULE application in the left hand drive and the SPELL application in the right hand drive. SCHEDULE is a calendar/organiser application and SPELL is a spelling checker/thesaurus.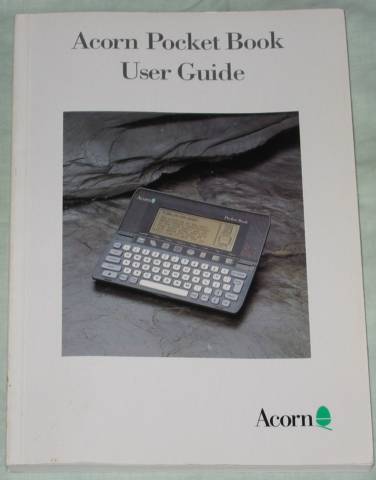 Pocket Book User Guide
Specification:
Model
AHB03
Serial No.
73-AHB03-1017117
Launch date
1992
CPU
NEC V30
CPU Clock
4.7MHz
ROM
384K
RAM
256K
Power
2 x AA batteries
Lithium cell backup
Expansion
2 x SSD
Size
165 x 85 x 22mm
Weight
265g
Screen
240 x 80 pixels
8 lines of 40 char