BeebMaster Econet Upgrade kit
[Back ]
Description
Ian Wolstenholme describes the BeebMaster Econet Upgrade kit (slightly edited) as:
*I AM, *NET, *NOTIFY, *REMOTE, *VIEW, *USERS, *DISCS, *BYE, *PRIV...if these commands have brought happy memories from the 1980s flooding back to you then now is the time to upgrade your BBC micro to Econet!
This is BeebMaster's own Econet interface upgrade kit for the BBC Model B. It contains all the chips and other components needed to perform the Econet upgrade. All the ICs, including the 68B54 are new parts and not salvaged from old Beebs. The kit is supplied with DNFS ROM and full fitting instructions.
BeebMaster put together these kits with all-new parts to allow you to add the Econet interface to your BBC Model B. Each kit contains:
8 integrated circuits including the rare 68B54 Econet Controller and DNFS ROM
7 IC sockets
2 capacitors
Econet DIN socket
Resistor network pack
1 bank of 16 PCB link pins
7 link jumpers for setting the station number
20 resistors
Full fitting instructions
All the parts contained in this kit are new - even the obsolete 68B54 which is "new old stock". The microchips are supplied in a reusable box which is handy for keeping all your spare ROMs in when you have fitted the upgrade.
All the parts are individually packaged and labelled so there is no need to fumble about wondering which resistor is which!
Full instructions are provided with the kit - just solder in the sockets, capacitors, resistors and pins, plug in the ICs, set the links for the station number and move a couple of other links. Then switch on and say *I AM to your new Econet Station!
Please note that fitting this kit involves a reasonable amount of soldering to your priceless BBC Micro and should not be attempted unless you are a competent solderer or can find somebody to do it for you!
I do not have a BeebMaster Econet Upgrade kit.
Compatibility
This upgrade is only suitable for the BBC Model A and BBC Model B and not for the Model B+ or Master Series machines. BeebMaster can supply Econet upgrade kits for the BBC Model B+ if you contact him at the e-mail address below. For the BBC Master Series, the BeebMaster Econet Module is available.
Where to Buy
Order from BeebShop . For all enquiries, please contact BeebMaster at Enquiries@BeebShop.co.uk.
Pictures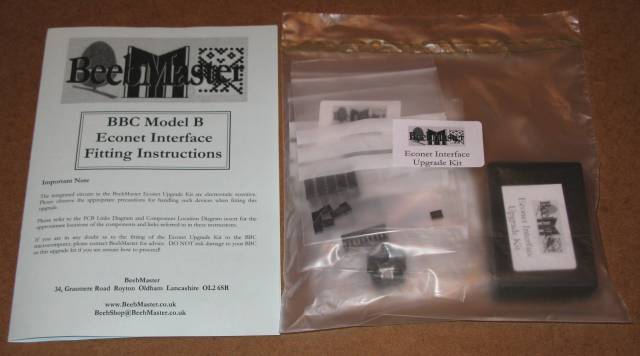 picture © BeebMaster
BeebMaster Econet Upgrade Kit - what you get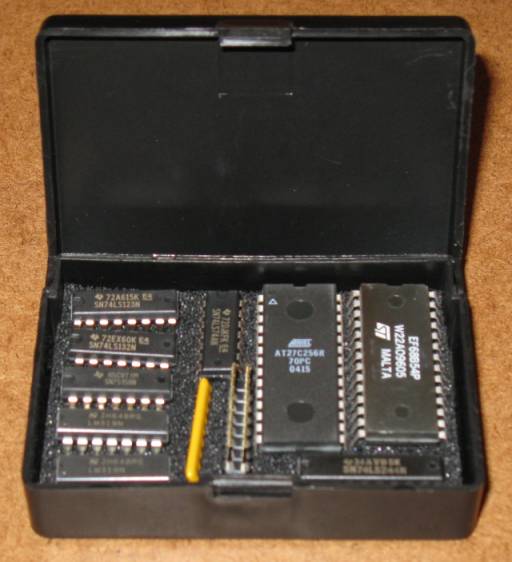 picture © BeebMaster
BeebMaster Econet Upgrade Kit - neatly boxed
Specification
N/A
Documentation
N/A