Martin Barr RAMagic!
[Back ]
Description
Here is Martin's description from an ebay auction (slightly edited):
RAMagic! includes an amazingly simple to use PC to BBC file transfer utility which gives you instant access to the huge library of BBC Micro software available free on the Internet without the need for any special cables, hardware or software on the PC. Just imagine, you can now make your own collection of 'original' Beeb discs and enjoy playing virtually every game that ever existed and all on a real BBC Micro!
All you need is a BBC Micro (or Master 128*) with a 1770 DFS and twin disc drives (one of which must be 3.5") and any standard PC or Laptop with a built-in or USB floppy drive. All the clever stuff is taken care of by RAMagic! which, by low-level manipulation of the disc interface hardware, retrieves the raw file data from the Windows floppy and re-writes it back via DFS exactly as per the original BBC disc. The utility handles IMG, SSD, DSD and ROM image files as used on all the major BBC Micro software sites.
For example, fancy a brand new copy of Elite? Go to any of the great BBC support sites on the net and download the Elite disc image. Extract the image file and copy it to the transfer floppy using Windows Explorer, My Computer or whichever way you prefer!. Put the transfer floppy into your Beeb 3.5" drive with an 80 or 40 track DFS formatted disc in the other Beeb drive. Type *DOSDFS n (where n is the source drive) and about a minute later you will have a ready to play copy of Elite which can be used on any Beeb with any standard of disc interface. RAMagic! is not subsequently needed to run the discs it creates since they are 100% stand-alone, Acorn compatible and every bit as good as the originals!
Features include:
PC to BBC Transfer Utility - on your PC (can run MS-DOS to Vista) copy files to a 720KB floppy disc. On BBC Micro ,with 1770 disc controller, and twin drives (at least 1 must be 3.5") convert to Acorn DFS standard 40/80 track. RAMagic! is not needed to subsequently run programs.
Clock/Calendar - Real Time Clock with Day and Date. Lithium battery has at least 10 years life. Supports OSWORD 14 for Master compatibility.
32KB of Lithium battery backed RAM - 28K free for non-volatile storage through power off. Save entire BBC program memory to NVRAM and reload after power on.
Sideways RAM/ROM functions - RAMagic! can become 16K sideways NVRAM which can be loaded with any ROM image.
Autoboot functions - RAMagic! incorporates a facility to auto boot any program at swich on by allowing the user to specify up to 3 command lines which will be executed at power on or after <BREAK>
21 New OS commands - *TIME *DATE *NOW *TBRK *TSET *DSET *MCLR *MROM *MSAVE *MLOAD *MDIR *VSAVE *VLOAD *AUTON *AUTOFF *ACOM *ACOM1 *ACOM2 *ACOM3 *SLEEP *DOSDFS
Compatibility
The installation disc includes two versions of the resident code which allows RAMagic! to be used on the BBC Model B, Model B+ 64K and Model B+ 128K with Version 2.0B and the on the Acorn BBC Master 128 with Version 2.1M.
Where to Buy
RAMagic! is occasionally available as an ebay auction. Alternatively contact MartinB on the Stairway to Hell "for Sale" Auction or by email at: sprintmartin1@yahoo.co.uk.
Pictures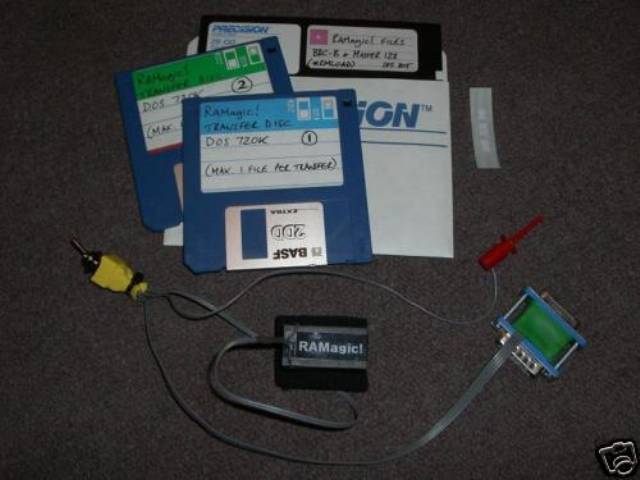 Picture © Martin Barr
What you get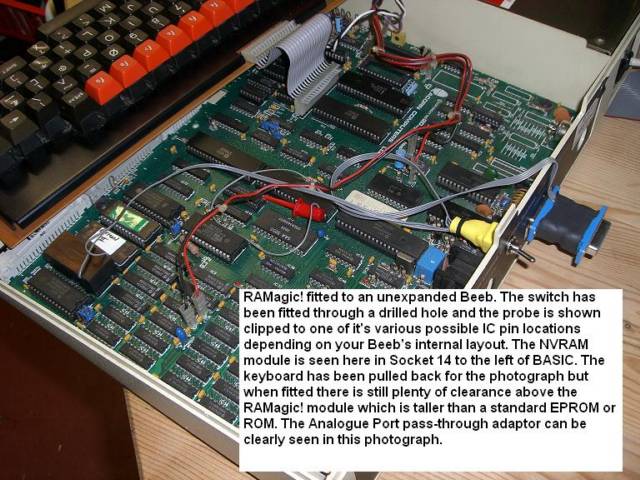 Picture © Martin Barr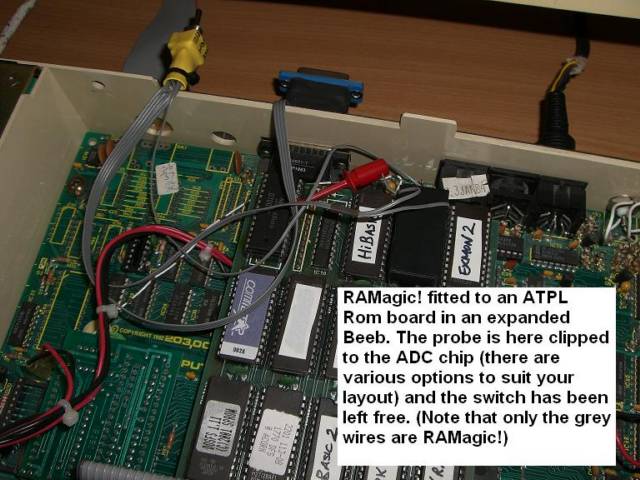 Picture © Martin Barr
Specification
RAMagic! is supplied as software in a sideways ROM and on floppy disc.
Documentation
Here is a copy of Installing and Using RAMagic! .