RetroClinic DataCentre
[Back ]
Description
Here is Mark Haysman's description from the RetroClinic web site:
DataCentre is our well established 5 in 1 upgrade for the BBC Computer range from RetroClinic. It is a leap forward for the BBC, bringing the connectivity of USB to the BBC Micro for use not just as a storage medium, but as a new way to connect modern hardware to your vintage machine.
It provides 5 functions on one board:
USB Host Controller, allowing connection of virtually any USB device including Flash Drives, Keyboards, Mice, etc.
USB Slave Port, allowing connection directly to your PC.
1 Megabyte RAM for use by drivers, filing systems or the user.
64K Byte Non-Volatile RAM, used as a small RAM Drive for storing commonly used programs and utilities.
16 Bit IDE interface, compatible with the existing RetroClinic CF system, but will also allow in the future the full range of 16 Bit IDE peripherals to be used, e.g. CD and DVD Drives.
The DataCentre is both simple to use for the first time user, and highly programmable by those with the knowledge. It cuts out the extra step common to all other storage systems for the BBC, that of the "transfer software" on the PC. With the DataCentre system, you no longer need any software on the PC whatsoever.
You simply use any USB storage drive, of any capacity, be that a solid state Flash Drive, or a conventional Hard Drive in a USB Enclosure, and as long as it is formatted with the FAT or FAT32 filing system, it will be recognised. Most modern PCs, Macintoshes and Linux based machines will automatically recognise such a drive. You then download the software you want directly to it, or onto your PC hard drive and then drag the files across.
Once on the USB drive, this is simply inserted into DataCentre, and the BBC can now see all those files. With a single command, the image can be imported either to one of the 4 available RAM Drives, or directly onto a Floppy Disk if you have a floppy drive and interface. You can then go on to play the game, or modify that disk image whilst on floppy or in the RAM drive, or even use your own floppy discs, and export them back to the USB drive in one of two standard universal formats, known as SSD or DSD. These images can then be immediately used on the PC by plugging the Drive back into the PC USB port, either to upload to your website, or use in an emulator, or to archive on CD etc.
You don't even need to use an image, you can save Basic programs and data direct to the USB drive, and those files can be instantly read by your PC, or put any file you like onto the USB drive, and the Beeb can see it, again without having to mess with DFS Image manipulation tools.
DataCentre doesn't restrict you like other MMC based systems. There's no limit to the size of device you can use, be it the latest 64GB USB Flash drives, or a 2TB Hard drive in a USB enclosure. No hunting to find old obsolete cards and a reader to go with them, USB sticks are the accepted standard medium for PCs, and with DataCentre, your Beeb can read them too.
The DataCentre board also has it's own onboard IDE controller, which is the full 16 bits wide, unlike most other IDE systems available for the Beeb at the moment which are 8 bit. Whilst ADFS still only uses the system in 8 bit, having the full width IDE system in your machine makes it future-proof, when new filing systems that are being worked on are made available, for Archimedes drives, as well as CD and DVD Rom Drives. You can use PC IDE or SATA drives with the system already, using a USB - IDE/SATA Adaptor. As long as the drive is in FAT, FAT16 or FAT32 format, it will be recognised.
You can add the board to virtually any specification of Machine, and it connects via the 1MHz bus port. You will also need one free ROM socket. The Ram Filing system that comes with the board does not use up main memory, so PAGE is kept as it was before, &E00 on a Master and on a standard B, no Sideways RAM is needed. You don't even need to have a disk system, with the 4 x 200K RAM Drives available, you instantly have access to virtually every peice of disc software ever written for the Beeb on the net.
The USB Port doesn't just do Storage - it's a fully functional USB 2.0 specification host, and as such, you can use virtually any USB device in it you like, including Keyboards, Mice, Joysticks, Hubs etc. DataCentre opens up the Beeb to a whole new world of connectivity. As with any USB device, drivers are needed, and a sample USB Mouse program is included to get you started in programming your own device drivers for your application. Full specifications on the hardware used for the USB controller, and how to program it, are all included in the kit.
The DataCentre system is not a "closed" environment. The printed manual and additional datasheets on the CD give you all the technical details you need to program the USB system yourself, as well details on using the full 1MB of RAM for your own application. If you've got a USB gadget on your PC and you fancy running it on the Beeb, well now you can! The commands to communicate with ANY USB device are built into the system, all you have to do is write the software to do what you want it to do!
I have a RetroClinic Datacentre but have not yet installed it in a BBC Micro.
Compatibility
The RetroClinic DataCentre is compatible with the BBC model B, B+ and Master 128.
Where to Buy
Further details, including how to buy, are available from RetroClinic.com. Also regularly sells on ebay in category computing > vintage computing.
Pictures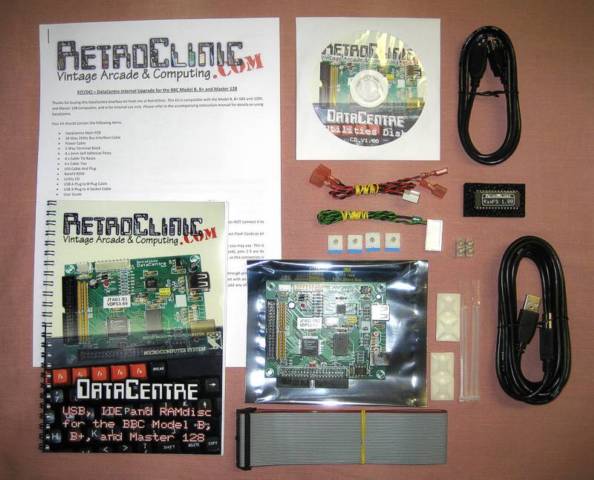 Picture © RetroClinic
RetroClinic DataCentre what you get in the box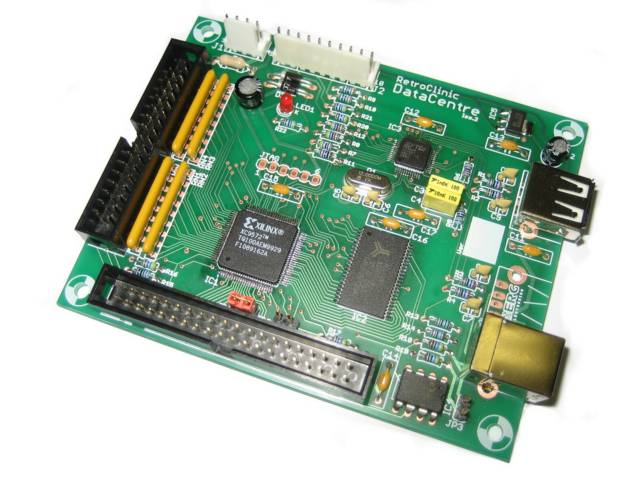 Picture © RetroClinic
RetroClinicDataCentre circuit board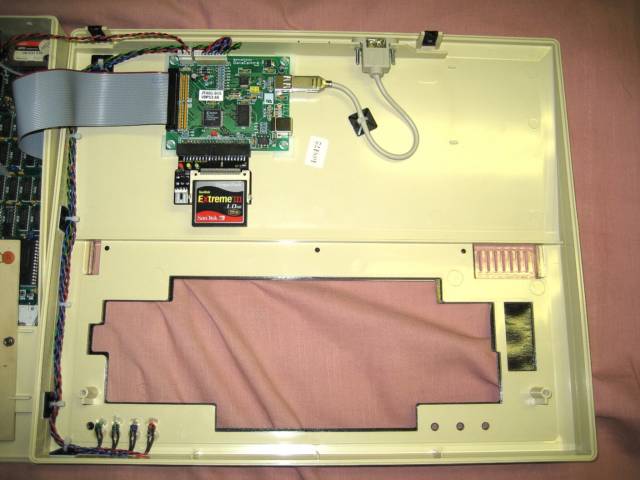 Picture © RetroClinic
RetroClinic Datacentre installed in a BBC Micro
Photo of an example installation in a BBC Model B, with USB extender to bring port to the back panel. Click on photos for a larger image. The Installation shown includes optional extras, such as the CF Adaptor and card, full LED header, and USB Back Plane extender.
Specification
N/A
Documentation
See RetroClinic.com.