RetroClinic Internal Compact Flash Hard Drive Kit
[Back ]
Description
Mark Haysman describes the Internal Compact Flash Hard Drive Kit on the RetroClinic web site as:
Here we have a full fit-yourself kit, to give your BBC Model B or BBC Master 128 up to 512MB of fast Hard Drive storage space. This kit uses a Compact Flash card instead of an old style spinning platter drive, which gives the advantage of a smaller, lighter unit, no noise, no spin up time, and faster access speeds, with greater reliability.
This new Universal kit is suitable for both the Model B and Master 128 series, so you could buy just one kit to use between several machines, or upgrade to a Master in the future, and still use the same kit.
The kit comes with almost everything you need, the only thing left for you to get is the Compact flash card itself, which you can either source yourself, or I can supply preformatted, please see below. These are available all over the high street, and this kit does not need anything special, a bog standard off-the-shelf one will do just fine. As well as the Interface itself, which plugs into the 1MHz bus, comes the ADFS 1.53 for the Master and ADFS 1.33 for the BBC B on a special single ROM that is suitable for either machine. The Master has ADFS 1.50 inbuilt, which accesses SCSI drives, so the replacement is needed to access the later style IDE drives and Solid State devices. An 8 page leaflet of instructions and recommendations detail which socket to put the rom in, how to connect everything up, and how to reconfigure your Beeb to access the Hard Drive. It is very straightforward, and completely compatible with your original ADFS floppy disks, as well as the other operating systems like the 1770 DFS and Econet. A disk of utilities is also included, for Formatting, Copying, Initialising blank cards etc. I can supply the disk on 3.5" should you prefer, please let me know at the time you place your order.
The unit also needs to be hooked up to power, and there is a power lead included in the kit, which simply plugs into the existing cabling inside your Master, or via a supplied terminal block for the BBC B. Also included are 2 self adhesive PCB mounts, so you can mount the card inside the case at a place of your choice.
I would recommend a Flash Card of 1GB capacity. All IDE devices are 16 bit, but as the BBC is only 8 bit, it can only access half the capacity of the card. Add to the fact that the ADFS can only handle a maximum of 512MB (as could most computers of that era), a 1GB card is the most logical to use, but it is of course up to you!
I do not yet own a RetroClinic Internal Compact Flash Hard Drive Kit.
Compatibility
The Internal Compact Flash hard Drive Kit is compatible with the BBC Model B, B+ and Master 128.
Where to Buy
Further details, including how to buy, are available from RetroClinic.com. Also regularly sells on ebay in category computing > vintage computing. The Internal CF Hard Drive kit may no longer be available as it has been removed from the RetroClinic web site.
Pictures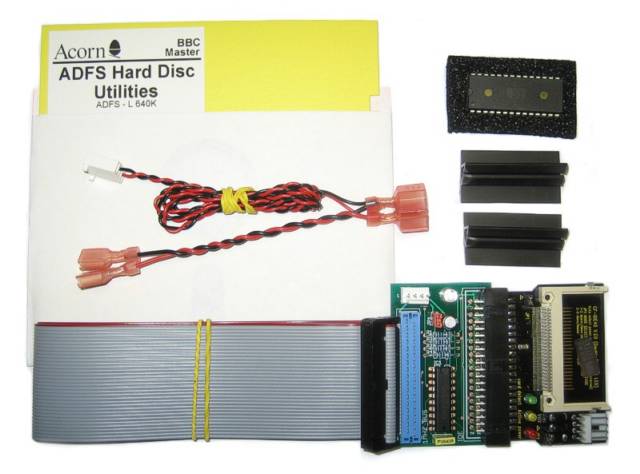 Picture © RetroClinic
RetroClinic Internal Compact Flash Hard Disc Kit what you get
Specification
N/A
Documentation
See RetroClinic.com.