Ctorwy31 BBC solid state disk drive
[Back ]
Description
Ctorwy31 describes the BBC solid state disk drive in an ebay auction as (slightly edited):
This upgrade will allow you to attach solid state storage to your BBC Micro.
Fast, reliable data storage for BBC Micro
Suits BBC Model B, B+ and Master.
Professionally made PCB
128MB MMC card included
Turbo MMC ROM loads and saves data typically three times faster
Can be mounted internally or externally
Hot-swappable cards
Draws its power from the User Port - no PSU required
1 year guarantee
This kit has to be one of the easiest ways to add solid state memory storage to your BBC Micro and probably the best value too. Everything you need to get started is provided, including a 128MB memory card. The main parts of the kit are shown in the picture below.
The green interface board itself measures about 1.9" by 2.4". One end of the ribbon cable (at the top) plugs into this interface and the other into the User Port on the underside of the computer. The ribbon cable and 20-way connectors are completely standard so it is easy to make up another of a different length if required.
The software required to load and save data to the memory card is provided on a 16K EPROM although the code can also be put into some kind of sideways RAM system too (ideally non-volatile). This software will typically load files around three times quicker than the standard version. It is not necessary to have a floppy disk system fitted in order to install this kit so it can be installed on a basic 'cassette tape only' machine.
The four square objects are self-adhesive pillars which are ideal for attaching the interface to the underside of the lid if an internal installation is preferred.
The memory card itself just slides into the socket on the interface board. It is permissible to swap cards around with the machine turned on and a 128MB memory card is included with the kit so you can get started right away. Each 128MB MMC card can hold the equivalent of a maximum of 511 80-track single-sided disks (about 300 disks on a 64MB card), but of course there is no limit to the number of MMC cards that you can have available.
No separate power supply is needed because power is drawn from the User Port, about 8mA when idle and this rises to around 30mA when loading or saving data.
Finally, the CD contains instructions on how to prepare new MMC cards for use with the interface and of course installation and using the product generally. Topics covered include how to create and use !Boot files and getting ROM images, widely available on the internet, onto the MMC card. Such images can then be quickly loaded into sidesays RAM (where fitted) by a !Boot file.
I do not have a BBC solid state disc drive.
Compatibility
BBC Model B, B+ and Master.
Where to Buy
Ctorwy31 has regular ebay auctions listed in the category: Computing>Vintage Computing.
Pictures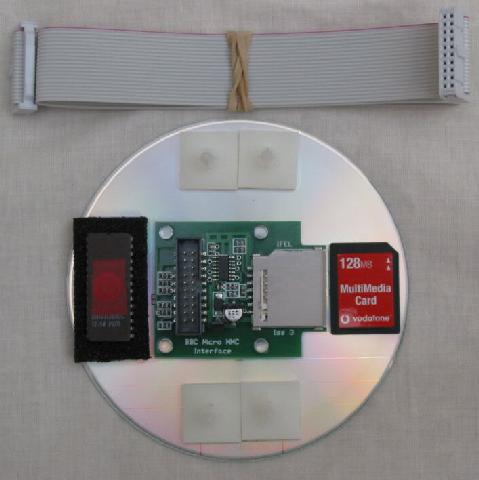 Picture © ctorwy31
BBC solid state disk drive - what you get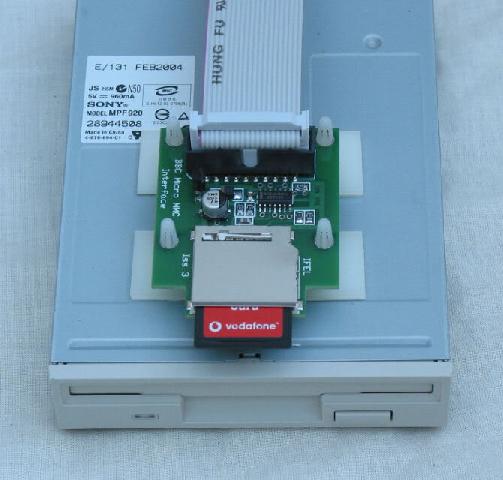 Picture © ctorwy31
External BBC solid state disk drive
Specification
N/A
Documentation
N/A