Acorn AEH26 FileStore E01
[Back ]

Acorn AEH26 FileStore E01 (front)

Acorn AEH26 FileStore E01 with front flap removed
The front flap hides the 2 floppy disc drives, seen here with disc blanks in to protect the heads. The mode and power lights can be seen through the flap. The position of the flap (up or down) controls the mode the FileStore is in.

Acorn AEH26 FileStore E01 (right)
The left and rights sides of the Filestore are the same.

Acorn AEH26 FileStore E01 (back)
The back of the filestore has an Econet socket on the left next to the FileStore bus and printer sockets. The on/off switch is in the middle and the power cable on the right.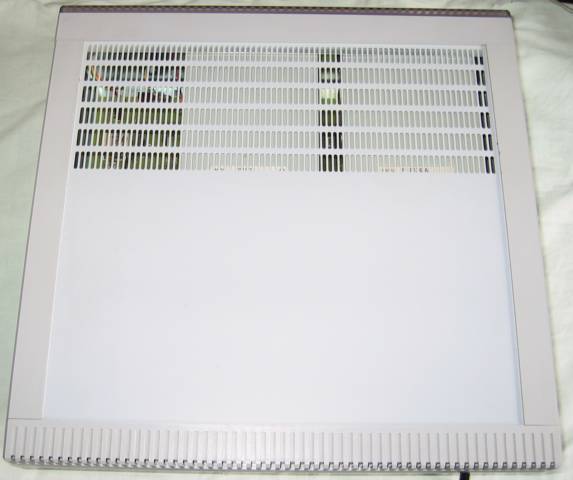 Acorn AEH26 FileStore E01 (top)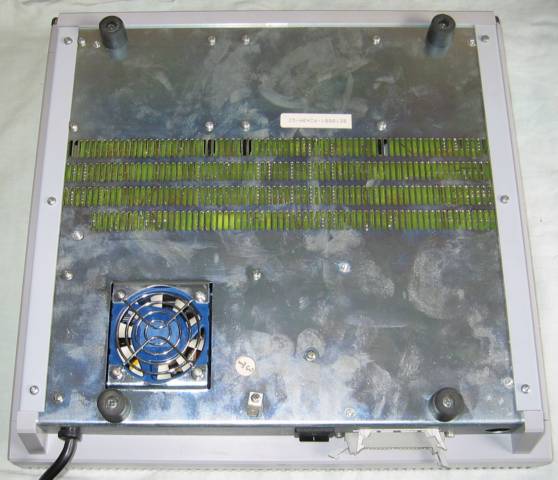 Acorn AEH26 FileStore E01 (bottom)
The bottom of the FileStore shows the serial number label - 25-AEH26-1000138 - and the cooling fan.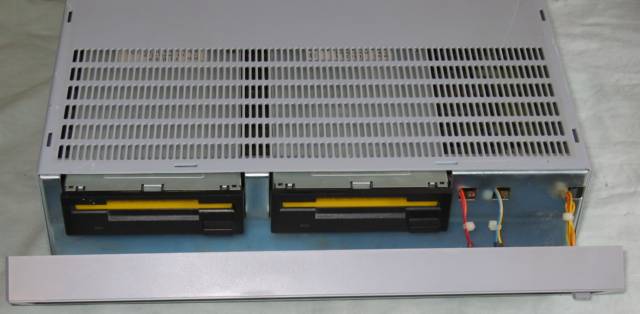 Acorn AEH26 FileStore E01 with side panels removed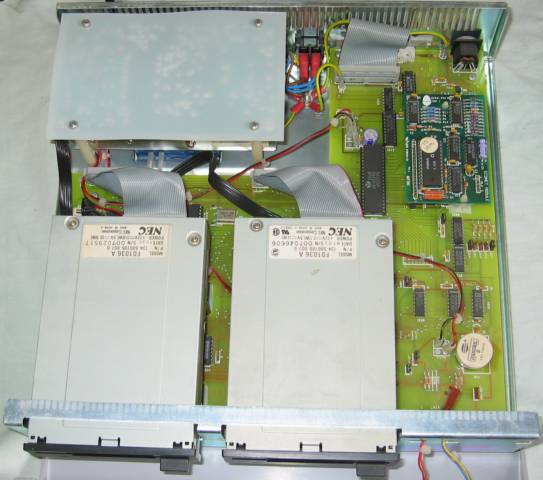 Acorn AEH26 FileStore E01 with side panels removed
Removing the FileStores top cover shows the 2 x NEC 3.5" FD1036 floppy disc drives at the fornt. The power supply is at the back. The Econet module is on the right.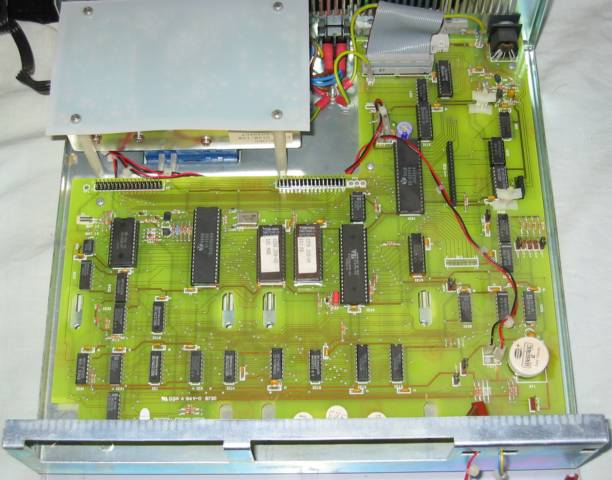 Acorn AEH26 FileStore E01 circuit board
Removing the floppy disc drives exposed the FileStore circuit board. The circuit board is based on a very simplified BBC Master with:
Hitachi HD1468 Real Time Clock on the back left
Rockwell R65C102P3 CPU to the right
2 x TMM27256D-20 white labelled EPROMs, TMSE01 MOS on left and E01 FS on the right
WD2793-APL-02 floppy disc controller
2 x NEC D41464C-12 64k x 4bit NMOS RAM ICs giving 64K memory
Rockwell RC6522AP VIA behind to the right
The Econet clock circuitry is on the middle right
The white CMOS battery is at the bottom right.
Here is a HiRes picture of the FileStore E01 circuit board .
The Acorn AEH26 FileStore was Acorn's first dedicated Econet file server. It could be expansed by adding a FileStore E20 which contained an 20MB ST506 disc and connected to the FileStore bus at the back of the E01. The FileStore bus is actually the standard Acorn 1 MHz bus as on a Master. The FileStore E01 uses a standard Acorn Econet Module as used on the BBC Master and later computers.
This FileStore E01 is grey, other FileStore E01 pictures show a BBC beige colour. I think this is because some FileStore were supplied with Acorn Communicators , which is grey, as complete Econet system.
Specification:
Serial Number
25-AEH26-1000138
Circuit board
0154,000 Issue 2
CPU
Rockwell R65C102P3
CPU Clock
4MHz
RAM
64KB
ROM
64K
Disc Controller
WD2793
Filing System
AFS0
OS
n/a
Econet
132545
0259,200 Issue 1
Add-in/Upgrades
n/a