Acorn ACA42 PCcard
[Index by function] [Index by Company]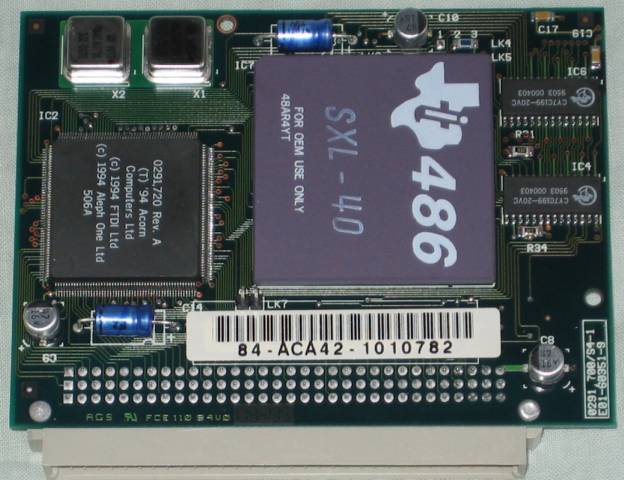 Acorn ACA42 (front)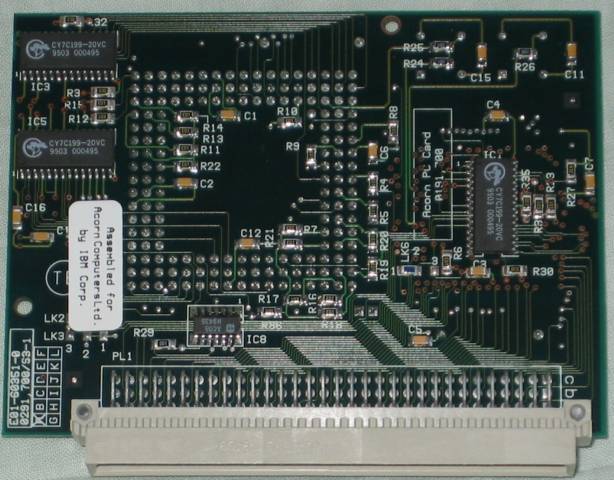 Acorn ACA42 (back)
The PCcard fits in the second CPU card slot on the RiscPC and enables it to run as a PC. This is the original Acorn 486 PCcard, it has a Texas Instruments 486 SXL-40 CPU. The 486 CPU has 8KB on chip cache and a 32bit bus. On this card it is clocked at 33MHz.. These PCcards are also know as Gemini I cards because of they used a common card design.
Tha Acorn ACA42 PC Card was shipped with Novell DRDOS.
Acorn Press Release RiscPC 486 card Questions and Answers
In June 1995 Personal Computer World published a review titled "Acorn RISC PC 486 Co-processor "
For further details about RiscPC PCcards see Acorn Cybervillage X86.
Here is the Acorn PC x86 card software disc . However is is better to use the more recent Aleph1 PCPro software.
Here is the Aleph1 PCPro v3.06 software to configure and run this PCcard. Aleph1 have released PC & PCPro software under the GPL, further details are available from RISCOS.info .