Baildon Electronics IDE HD Interface
[Index by Function] [Index by Company]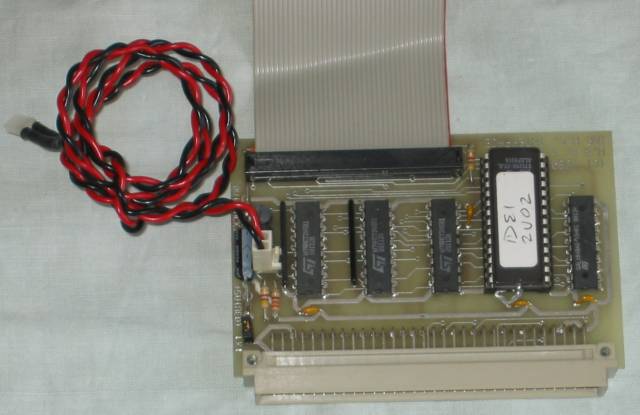 Baildon Electronics IDE HD Interface (top)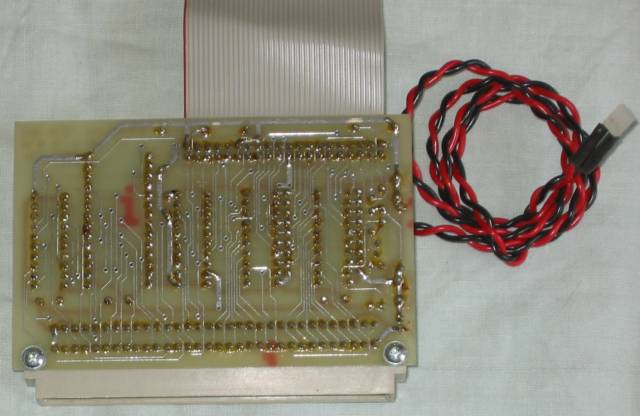 Baildon Electronics IDE HD Interface (bottom)
The identification of this podule as a Baildon Electronics IDE interface is not 100% certain. The identification on the card reads "(c) 1990 H. & S. +BE V3 IDE HD INTERFACE". The handwritten label on the ROM reads "IDE1 2V02".
The questions remain:
Was this podule made by Baildon Electronics, if not who did make it?
Who are "H. & S."?

If you know the answers please let me know.
The card was designed as an IDE Interface for the Archimedes A300 and A400/1 series. The A300 did not have a backplane so this card can be plugged into the backplane socket and the +5V and 0V power lines connected to it instead of the backplane. The A400/1 series had an ST506 interface on the motherboard, but these drives were limited to < 100MB and expensive. The interface supports up to 2 IDE drives (at least the cable has 2 connectors). The red and back cable has an LED on the end to give a disc activity indicator on the Archimedes front .