Millipede Imago
[After Acorn ] [Companies ]
Introduction
Imago was the project name for Millipede's computer motherboard. It was designed to be mechanically compatible with the Acorn Risc PC motherboard. Imago incorporated numerous performance and feature enhancement, see the specification . Imago was planned to be the basis for a number of future motherboard designs from Millipede.
In October 2000 Millipede announced:
Imago was always designed to accept new processors and an XScale module is already being developed. It will shortly be put through its paces. This will enable us to ensure that when Imago is released it is compatible with the XScale processor.
Whilst XScale chips are now being sampled to a few key developers by Intel, it is likely to be some months before they are available in production quantities. Also note that the new processor does not support 26-bit processor mode, therefore it cannot be used to run the current version of RISC OS directly. Applications and modules may also need to be updated.
In spite of being demonstrated at a number of RISC OS shows in 2000. Imago development ran into technical difficulties caused by the close coupling of RISC OS with the Risc PC hardware and was abandoned with only a few prototype motherboards produced.
Cerilica planned to base the Nucleus high end RISC OS graphics workstation on the Imago motherboard.
Manuals and documents
None
Imago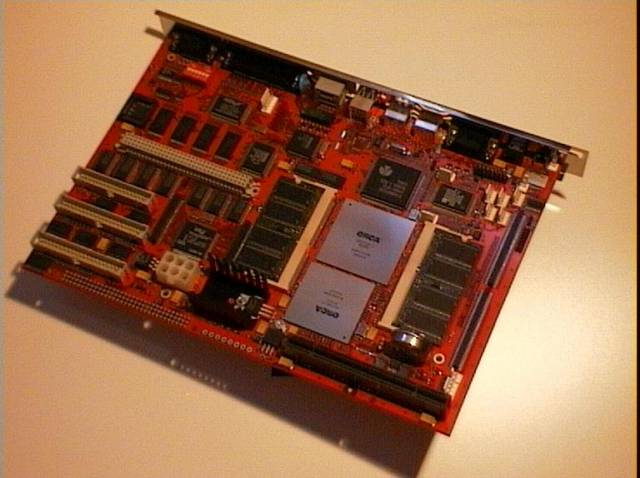 Millipede Imago motherboard
picture from Millipede Electronic Graphics web site
| | |
| --- | --- |
| CPU | On-board rev T StrongARM with processor upgrade connector |
| Memory | Up to 512 MB SDRAM in SO-DIMMs running at 100MHz (minimum) |
| | 16MB flash memory |
| Video | very high resolution video - 10248 x 1536 @ 72MHz @ 24bits |
| Sound | Enhanced SoundBlaster compatible sound processing |
| Ports | Game port with joystick and MIDI I/O |
| | Built-in 100 Base-TX Ethernet |
| | Dual EIDE port to support up to 4 devices |
| | Dual serial ports (RS232 and RS422/RS485) up to 460kb/s |
| | Dual USB port |
| | PS/2 mouse and keyboard interface |
| Buses | Audio/video expansion bus with 4 real-time video streams |
| | Standard podule bus with enhanced data rate |
| | Additional decoded podule connector |
| | Standard processor expansion connector for PC card |
| Other | Low profile design |
| | Requires single +5V supply |
| | Designed for EMC compliance |
| | Interesting colour |
Hardware details
From the Millipede web site in Oct 2000:
Custom Chips
Imago doesn't require any of Acorn's proprietary chip designs, such as VIDC and IOMD. However, in order to ease the porting of RISC OS, most of the functionality of these chips is emulated using two large FPGA (Field Programmable Gate Arrays). These control the complex flow of data to and from memory. In order to reduce cost and further enhance performance, production versions of the motherboard will use a single, very large FPGA in place of the two currently used on Imago.
Processor
Imago is currently based around the 233 MHz rev. T StrongARM processor from Intel. Whilst the processor is directly soldered onto the motherboard, a small second-processor board may be mounted over the top. This can operate instead of, or possibly in conjunction with, the motherboard processor. A board to support Intel's XScale architecture (next generation StrongARM), has already been designed.
A standard processor expansion connector is also provided, primarily intended for the existing Acorn/Aleph One PC card.
Memory
Imago has two 144-pin SO-DIMM sockets for use with industry standard 64-bit SDRAM modules. These provide up to 512 MB of RAM operating on a 128-bit wide data bus.
The memory can operate at rates of 100 MHz to support PC100 SDRAM modules. Production versions are planned to run at 128 MHz.
The new motherboard is fitted with 16 MB of flash memory. Typically 4 MB of this will be required by the operating system (eg RISC OS 4) and the remaining 12 MB will be available to the user. This is ideal for compact applications requiring a robust discless systems.
Imago includes 2k bytes of EEROM memory and 512 bytes of battery backed up memory. 128 bytes of EEROM memory is also available to the user on each SDRAM module. This extra non-volatile memory permits storage of additional configuration parameters.
Video
The monitor video output is capable of resolutions up to 2048 x 1536 at 72 Hz frame rate. This resolution can now be achieved in all pixel depths, including 24-bit, 16 million colour modes.
Video is derived from main memory. Not only does this represent a significant cost saving, it also permits multiple video buffers. The memory interface has been carefully designed to ensure that video DMA does not unduly compromise processor access.
The start address of video memory can be freely set and this enables smooth scrolling and special effects. In particular, it allows hardware panning through very large images. It also allows the replay of animation sequences stored in memory.
The hardware has been designed to support the VESA DDC monitor standard. This allows the auto-detection of DDC compliant monitors and considerably simplifies monitor configuration.
Sound
Imago offers major improvements over the Risc PC sound capabilities. The new sound functions are based around a PC SoundBlaster compatible chip.
There are four analogue stereo input channels, plus one mono microphone input. These signals can be cabled to a podule panel. This panel may also include the game port, incorporating a MIDI I/O channel (Note: this is not optoisolated on-board as isolation is normally included in game port cable assemblies).
In addition, two I2S digital input channels are available which, for instance, can be used to connect a Wavetable synthesiser. Further expansion of the sound system is possible through the sound DSP I/O channel, available on the A/V expansion bus.
Internally, Imago has stereo speaker outputs, so you can now fit a speaker in that space on the left! Use of a bridged amplifier circuit means the power output of each channel is approximately four times that of the Risc PC - this probably won't scare the neighbours but will help in noisy environments.
IDE
Imago provides two IDE connectors, allowing up to four EIDE devices to be fitted. The new IDE hardware offers a major improvement in performance over the Risc PC. UltraDMA mode is planned up to 32 MB/s - that's about four times the speed of the fastest SCSI interface for the Risc PC.
Network
Imago features a built-in 100 Base-TX Ethernet interface, backwards compatible with 10 Base-T.
USB
Two USB ports are fitted with type A host connectors. These ports automatically support dual speed USB peripherals (12 Mb/s and 1.5 Mb/s data rates).
Serial I/O
Two serial I/O ports are provided, with a data rate of 460 kb/s on both ports. One port provides a RS232 interface. The second port provides a full duplex RS422/R485 interface. Alternatively, when the RS232 port is not required, the second port may be configured to provide two, half duplex RS485 ports.
A connector is fitted for an IR expansion interface.
Game port
A standard 15 pin game port connector can be cabled to the motherboard to provide twin analogue joysticks and a non-optoisolated MIDI I/O channel.
Keyboard and mouse
Imago uses an industry standard PS/2 interface for both keyboard and mouse.
Podule expansion
Imago supports the podule backplane and retains compatibility with existing expansion cards, although faster podule expansion bus cycle times will be available.
A new horizontally mounted decoded podule connector may be fitted, in the position currently occupied by the IDE interface connector.
Audio/video expansion bus
The audio/video expansion bus connects dedicated real-time data channels between the motherboard and podule expansion cards. This is intended for the development of cost effective, high performance audio/video systems.
The bus transfers up to four channels of real-time video data, under DMA to/from main memory. The video data are typically multiplexed to 27 MHz, in YUV 4:2:2, YUVK 4:4:4:4 or RGBK 4:4:4:4 formats. The full video period is supported, allowing ancillary data streams (such as digital sound) to be communicated outside the normal active picture area. Video outputs are fully genlockable and all video inputs can be asynchronous.
Two digital audio channels are provided on the A/V expansion bus, one being connected to the DSP port of the on-board sound chip.
The Risc PC genlock connector is retained for backwards compatibility, although this cannot be used when the A/V expansion bus is fitted.
OEM use
A number of customers will wish to build the new motherboard into their own cases. A common requirement is for low profile, perhaps as low as 1U high. This is not a problem and Imago even allows one double width podule expansion card to be fitted at base level.
Considerable attention has been paid in the development of the new motherboard to minimise electrical noise and susceptibility, making it easier to design into alternative cases whilst still meeting EMC compliance.
Colour
The development boards are in a tasteful red. As for the production boards, wait and see!