Atomwide A5000 8Mb Ram
[Index by function ] [Index by Company ]
Introduction
I have 2 different versions of this upgrade. The first from 1991, does not have all its compenets on the board. The second from 1993 is only suitable for late model A5000.
Atomwide A5000 4-8MB upgrade (1991)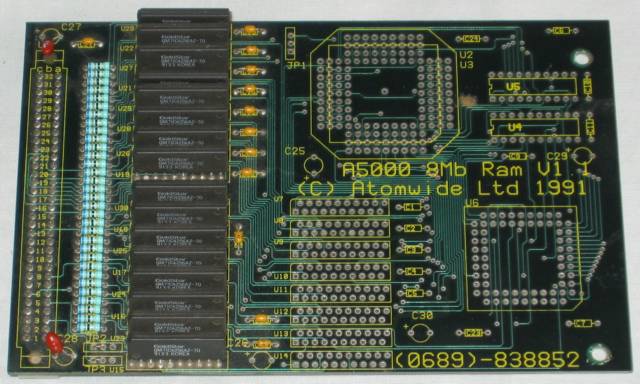 Atomwide A5000 8Mb Ram (top)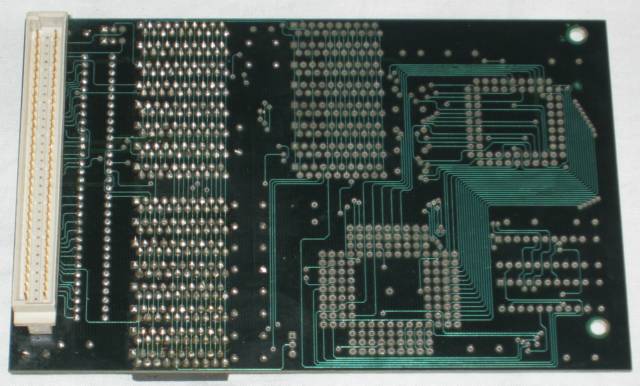 Atomwide A5000 8Mb Ram
The Atomwide A5000 8Mb Ram upgrade can upgrade an A5000 from 2MB to 8MB. This card only has 2MB in 16 x GM71C4256AZ-70 RAM (= 16 x 256k x 4 = 2MB) and is also missing components on the right. The card fits on the A5000 memory expansion.
To address a further 4 MB a second MEMC1a is required. On this card I think that the MEMC1a on the motherboard is removed and a plug on the bottom of the card would fit its socket, the MEMC1a is then added to a socket on the top of this card. An second, slave, MEMC1a is installed on the card with the additional 4 MB RAM.
Atomwide A5000 4-8MB Upgrade (1993)
Atomwide A5000 4-8MB Upgrade (top)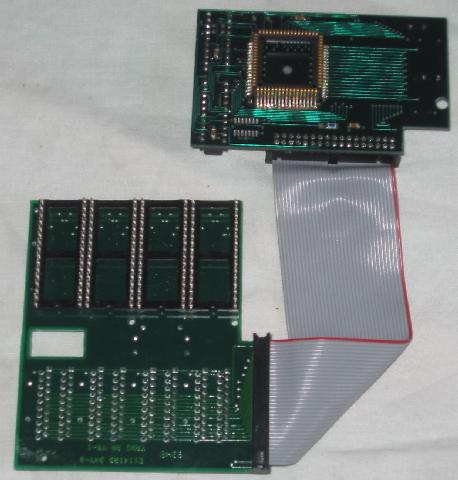 Atomwide A5000 4-8MB upgrade (bottom)
This upgrade is only suitable for the late model A5000 with serial numbers ALB32, ALB27, ALB28 or ALB35 which have a socketted MEMC1a.
The smaller board has a plug on the bottom which plugs into the MEMC1a socket on the A5000 motherboard (once the existing MEMC1a has been removed!). On the top are sockets for 2 MEMC1a's, a master and a slave, each of which can control 4MB memory giving a total of 8 MB.
The larger board plugs into the 4 RISC OS ROM sockets (after the ROMs have been removed) and contains 8 x MB81440A-70PSZ (4 x 1Mb DRAM) giving 4MB RAM in addition to the 4MB on the motherboard. The RISC OS ROMs are then installed in the sockets on the board.